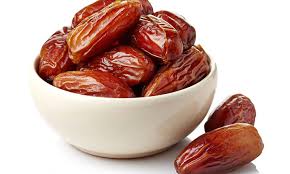 Enjoy these sweet date bites this holiday season instead of endless floury treats that leave you feeling bloated, tired, and heavy. ;) These treats are a great example of a whole foods snack that can knock a super sweet punch without sending you on a wild blood sugar roller coaster ride. Yes, dates have sugar (plenty of it, in fact) but dates are also a whole fruit with some beneficial vitamins, minerals, and fiber, which makes them a great option when compared to desserts made with white sugar and flour. The fiber in the dates along with the almond butter both slow down the absorption of the sugars, which helps keep your blood sugar steady.
And talk about simple to make! You can have a batch of these ready in minutes.
These date bites are always a hit when I bring them to parties. People will act a bit wary at first since they're "different," but once someone is brave enough to try them, word gets around the room fast and they're gone in no time.
Super Easy Date Bites – GF, DF
Yield: as many servings as you desire
Medjool dates
almond butter
cacao nibs
sea salt
Cut dates in half. Carefully fill each date halve with a small amount of almond butter. Top almond butter with 3-4 cacao nibs, and sprinkle with a twist of sea salt. Voila! You have a tasty, nutritious snack.
P.S. Though I've never tried other combinations, I'm sure you could just as easily use sunflower seed butter or tahini in place of almond butter, if you're avoiding nuts. Also, you could probably use a chocolate chip or two in place of the cacao nibs if you have kiddos in the house who might turn up their noses at the somewhat bitter cacao nibs. Feel free to play and have fun with this "recipe."
In love & service,
Claudine
https://wellnesswithclaudine.com/wp-content/uploads/2017/12/dates_bowl.jpeg
174
290
Claudine Arndt
https://wellnesswithclaudine.com/wp-content/uploads/2018/12/wellness-with-claudine-logo-300x119.png
Claudine Arndt
2017-12-15 12:38:52
2017-12-15 12:38:52
Easy, Delicious Date Bites - a healthy holiday party treat