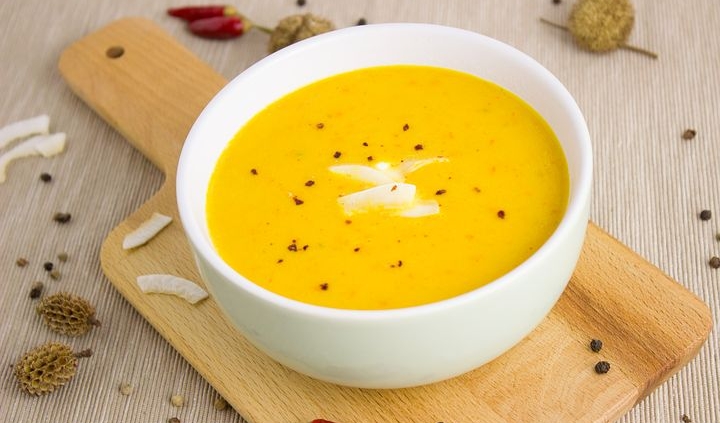 If foods could be our friends, then squash would be my best friend. For the record, I don't actually believe foods are our friends – they can't love us back, and they're no substitute for real human connection. Foods are just foods. But again, IF they could be our friends, then squash would be my Bestie. I enjoy everything about this beautiful food – the natural sweetness, the complex and varied flavors from squash to squash, the vibrant, cheerful color, its versatility. I'm salivating just writing about it.
So it's no surprise that every year for Thanksgiving I make some version of squash soup as one of our side dishes, but I give a wide berth to the common, overly sweet versions that include apples, maple syrup, or sugar and leave my taste buds feeling manic. In my (humble) opinion, those versions usually do a disservice to the natural sweetness squashes like Kabocha, Butternut, and Delicata have to offer, leaving nothing but the taste of sugar behind. Instead, why not allow the sweet, rich flavors of squash to reveal themselves naturally, whispering themselves into our taste buds instead of shouting at us?
The recipe below does just that. I can't remember where I got the original version of this one, but I've tweaked it plenty over the years. Add more peppers or curry paste if you want more heat, less coconut milk if you want it more squashy, more basil if you love it, or use a different squash besides Kabocha (although a traditional acorn squash would probably fall a bit flat). Honestly, there's not much you can do to ruin this soup unless you add too much fish sauce or lime juice. It's a delicious twist on a fall classic. Have fun playing!
Red Curry Kabocha Soup
Yields: 8 servings
1 medium Kabocha squash
4 Tablespoons extra virgin olive oil, divided
4 cloves garlic, peeled
1 cup yellow onion, diced
1 Tablespoon red curry paste, or to taste
1 teaspoon fish sauce
1 lime, juiced
½ cup fresh basil, torn into pieces
2 Tablespoons lemongrass, finely chopped
2 small jalapeno peppers, diced
6 cups chicken stock
14 ounces coconut milk (whole or reduced fat, whichever you prefer)
salt, to taste
toasted coconut flakes for garnish (optional)
Heat oven to 375º F. Slice squash in half and scoop out seeds and stringy guts. Drizzle with 2 tablespoons olive oil and put face down in a roasting pan. Rub peeled garlic with a little oil and toss into pan along with ½ cup water. Cover and roast for 30-40 minutes, or until squash is tender and garlic is caramel-colored. When cool enough to handle but still warm, scoop out squash flesh and toss squash shell.
In a large soup pot, heat remaining 2 Tablespoons oil. Add onion; reduce heat to low. Cover and sweat onion until translucent, about 7-10 minutes.
Whisk together curry paste, fish sauce, lime juice, basil, and lemongrass. Add mixture to large soup pot along with roasted squash, garlic, and stock. Stir in diced peppers. Add salt and pepper, to taste.
Simmer for 20 minutes. Stir in coconut milk and heat through. Puree soup in a blender or food processor. Adjust seasonings, if necessary, and top with toasted coconut, if desired.
https://wellnesswithclaudine.com/wp-content/uploads/2018/11/squash_soup.jpg
480
720
Claudine Arndt
https://wellnesswithclaudine.com/wp-content/uploads/2018/12/wellness-with-claudine-logo-300x119.png
Claudine Arndt
2018-11-09 11:58:41
2018-11-19 09:13:40
Thanksgiving: My Favorite Squash Soup